Clawdeen WolfEdit
é uma personagem inserida em 2010. Ela é uma das 6 personagens principais, filha do Lobisomem e, estudante de Monster High.
Sobre ela... Edit
Aparência Edit
Clawdeen Wolf tem pele marrom, cabelo castanho e, olhos amarelos.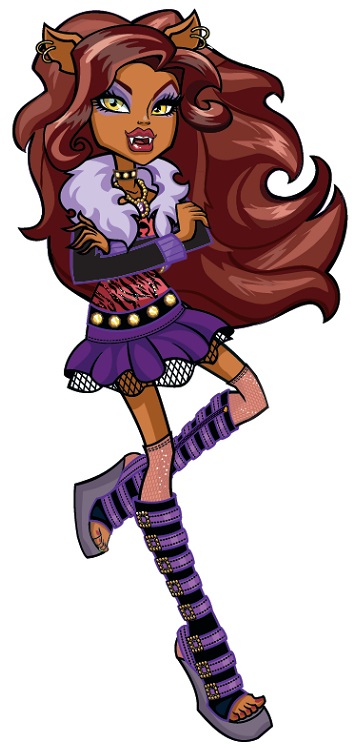 Personalidade Edit
????
15
Draculaura, Frankie Stein
Bicho de Estimação Edit
Crescent um gatinho monstruosamente fofo e tão peludo quanto eu.
Sou uma fashionista mesmo, com uma atitude confiante e forte. Eu também sou linda, intimidante e totalmente leal às minhas amigas.
Cor preferida Edit
Roxo
Comida preferida Edit
Bife mal passado.
Atividade preferida Edit
Comprar e flertar.
Matéria preferida / Matéria que menos gosta Edit
Economia Eu pretendo ter o meu próprio império de moda e eu quero um dia entender de negócios igual eu entendo de moda. / Academia. Não me deixam participar de salto plataforma.
O que mais lhe irrita Edit
Eu detesto estudar na mesma escola dos meus irmãos e irmãs. Eles são chatos e me dão vergonha. E eles sabem bem como me irritar. Ah, e a Cleo de Nile.
Curiosidade Edit
O meu cabelo é digno de um comercial de shampoo! E olha que é apenas o que nasce na minha perna. Arrancar e depilar é um trabalho integral, mas é o preço que se paga para ser tão linda de dar medo.
Dublagem Edit
A dublagem original de Clawdeen é feita por Salli Saffioti.
Ad blocker interference detected!
Wikia is a free-to-use site that makes money from advertising. We have a modified experience for viewers using ad blockers

Wikia is not accessible if you've made further modifications. Remove the custom ad blocker rule(s) and the page will load as expected.