Frankie Stein Edit
é filha do Frankenstein , estudante de Monster High e, é a personagem principal.
Sobre ela...
Edit
Aparência Edit
Frankie Stein tem a pele verde claro, cabelo branco e preto, olhos azul e verde.
15 dias (inicialmente)
Draculaura, Clawdeen Wolf
Bicho de Estimação Edit
Watzit
Meus amigos dizem que eu sou o tipo ideal para o mundo da moda. Eles me levaram para comprar umas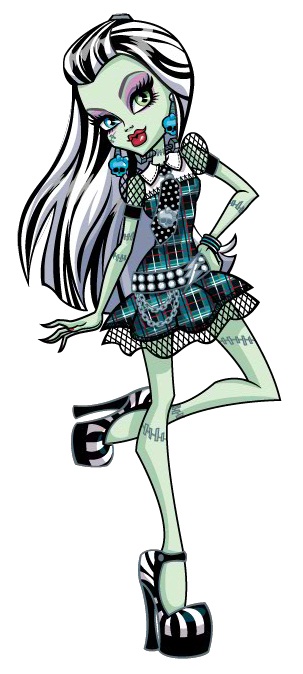 roupinhas lindas de matar.
Cor preferida Edit
Listrado (preto e branco)
Comida preferida Edit
Como só tenho 15 dias, tudo o que provei até agora considero como o melhor!
Atividade preferida Edit
Como eu só tenho 15 dias, ainda não tenho atividade preferida. Eu preciso conhecer mais coisas antes de escolher.
Matéria preferida / Matéria que menos gosta Edit
História. Eu gosto porque me ajuda a entender de onde os meus amigos são. / Natação. Eu entro em curto-circuito e começo a falar besteira em contato com a água.
O que mais lhe irrita Edit
Todo dia de manhã, quando acordo, meu pai insiste em gritar e comemorar Está viva!.
Curiosidade Edit
Às vezes meus pontos soltam nos piores momentos. Por exemplo, o meu braço saiu voando no meio da coreografia de fearleading e foi parar bem na frente do cara mais horripilantemente lindo de Monster High. Eu fiquei mortificada!
Dublagem Edit
A dublagem Original de Frankie é feita por Kate Higgins. No Brasil sua dublagem é feita por Luciana Baroli.
Ad blocker interference detected!
Wikia is a free-to-use site that makes money from advertising. We have a modified experience for viewers using ad blockers

Wikia is not accessible if you've made further modifications. Remove the custom ad blocker rule(s) and the page will load as expected.