Gigi Grant é filha do Gênio da Lâmpada Edit
É estudante de Monster High.
Sobre ela...
Edit
Aparência Edit
Gigi Grant tem pele rosa, olhos verdes e, cabelo rosa com mechas amarelas.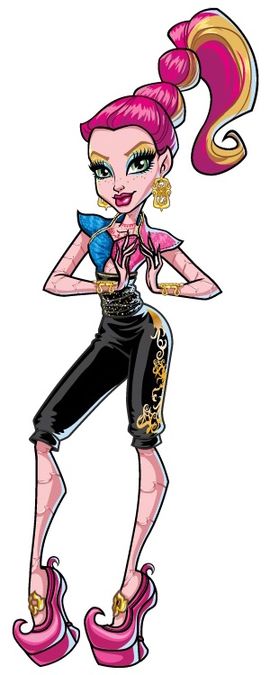 ? Antes de Cristo
?
Bicho de Estimação Edit
Um escorpião chamado Sultan Sting. Não se deixe enganar pelo nome. Na real, ele é bem despretensioso.
Tecidos naturais, principalmente seda, em cores vibrantes. Também curto usar regata e tênis. Sou totalmente a favor do conforto. Claro que não posso relaxar muito, pois nunca sei quando serei encontrada por um novo amo.
Cor preferida Edit
Ouro.
Comida preferida Edit
A receita secreta do meu pai, homus e pão pita fresco. Mesmo depois de tanto tempo, eu não enjoo!
Atividade preferida Edit
Adoro fazer turismo. É sempre incrível quando um amo deseja uma viagem para algum lugar onde nunca fui.
Matéria preferida / Matéria que menos gosta Edit
Astronomia. Adoro o espaço. É tão aberto e sem limites. / Direção. Não é bem a aula, mas o carro pequeno que temos que dirigir.
O que mais lhe irrita Edit
Os que fazem muitos desejos.
Curiosidades Edit
Bom, não é difícil imaginar que sou claustrofóbica. Ficar presa em uma lâmpada por milênios dá nisso.
Dublagem Edit
A dublagem brasileira de Gigi é feita por  Flávia Narciso.
Ad blocker interference detected!
Wikia is a free-to-use site that makes money from advertising. We have a modified experience for viewers using ad blockers

Wikia is not accessible if you've made further modifications. Remove the custom ad blocker rule(s) and the page will load as expected.