Bem-vindo á Monster High!
Edit
Bem-vindos a Monster High!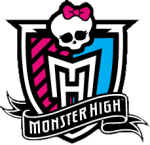 "Monster High,onde filhos de monstros lendários estudam!"
Monster High é uma linha de bonecas criada pela Mattel em Julho de 2010. Os perfis das bonecas são inspirados em histórias de terror e ficção científica como, por exemplo, o Conde Drácula, o Frankenstein, a Múmia, a Medusa, o Lobisomem, o Monstro do Mar, os Zumbis, os Fantasmas, etc.
Além de uma linha de bonecas, a franquia possui outros produtos como: acessórios, bolsas, blusas e etc.
Existe uma série de episódios para internet. Agora fizeram um livro com as personagens da franquia relatando a vida de seres fantásticos numa escola para monstros. O livro foi baseado em histórias de terror, de amor e de ficção cientifica. É, portanto, um livro repleto da temática amorosa. O primeiro livro conta a história das garotas chamadas Frankie Stein e Melody Carver que são novas na escola Monster High. No segundo, a história é de Cleo de Nile. Já no terceiro a historia é sobre Clawdeen Wolf.
Ad blocker interference detected!
Wikia is a free-to-use site that makes money from advertising. We have a modified experience for viewers using ad blockers

Wikia is not accessible if you've made further modifications. Remove the custom ad blocker rule(s) and the page will load as expected.