Nefera de Nile Edit
é uma personagem inserida em 2011. Ela é uma múmia, filha de Ramses de Nile e, irmã mais velha de Cleo de Nile. 
Dublagem
Edit
A dublagem original de Nefera é feita por Wendee Lee.
A dublagem brasileira é feita por Adriana Pissardini.
Sobre ela...
Edit
5,846
?
Bicho de Estimação Edit
Azura, meu escaravelho sagrado. Para ser sincera, ele me traz o sol.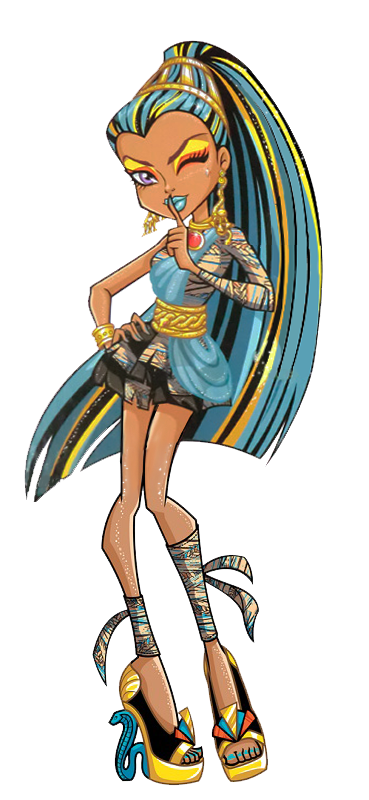 Prefiro roupas e acessórios que acentuem minha beleza atemporal, como o azul do eterno Nilo ou dourado, que não perde o brilho e nem enferruja. Assim como eu.
Cor preferida Edit
Azul do nilo.
Comida preferida Edit
Caviar Almas e trufas brancas.
Atividade preferida Edit
Certificar que minha irmã saiba o lugar que ocupa na linha de sucessão da família real. Que é atrás de mim.
Matéria preferida / Matéria que menos gosta Edit
Era Dragonologia. Eu tenho muito jeito com répteis. / Era Línguas mortas. Por que tenho que me preocupar em aprender se tenho servos que interpretam para mim?
O que mais lhe irrita Edit
Se algo ou alguém me irritar, eu resolvo. Imediatamente.
Defeito? Quem disse que tenho algum defeito? Quero nomes e um espelho. Rápido!
Ad blocker interference detected!
Wikia is a free-to-use site that makes money from advertising. We have a modified experience for viewers using ad blockers

Wikia is not accessible if you've made further modifications. Remove the custom ad blocker rule(s) and the page will load as expected.