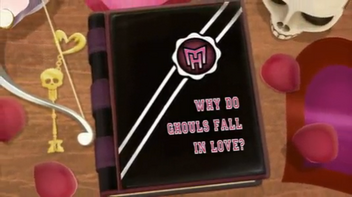 Por que monstros se apaixonam? ou Why do ghouls fall in love?(como é mais conhecido)é um especial de tv da série Monster High.O episodio foi exibido no canal nickelondeon nos Estados Unidos as 13:00.Por enquanto ainda não há previsão de quando estará em portugues no site brasileiro de monster high.O especial foi feito na versão CGI(nem sei oque é isso só sei de nome!)ao invés dos especiais novo fantasma da escola e choque de culturas:presaXpele.O vapiro Valentine é magico e seu "talento"é enfeitiçar outras monstras e terminar com elas para que fiquem chateadas(e tristes)
Aqui vai um resumo do especial:
O aniversario de Draculaura é no dia dos namorados,12 de fevereiro.O especial começa com draculaura imaginando como ela quer que seja esse seu aniversario tão especial.Cleo e Clawdeen irão fazer sua festa de 1600 anos nas catacumbas da escola,quando o primeiro e antigo namorado de Draculaura,Valentine apareçe em monster high.Seu objetivo é fazer Draculaura se apaixonar por ele e depois terminar com ela,fazendo com que ela se sinta muito chateada.Se valentine conseguisse isso ele completaria sua "coleção"de corações quebrados(literalmente!).As meninas pedem ajuda a C.A cupid para acertar uma flecha em clawd e outra em draculaura,mas toralei a atrapalha e no fim ela e clawd se apaixoman,mas no final do especial tudo é resolvido!.O tempo total do especial é entre 43 e 45 minutosthumb|267px|rightthumb|300px|right(não sei o tempo exato!)
Ad blocker interference detected!
Wikia is a free-to-use site that makes money from advertising. We have a modified experience for viewers using ad blockers

Wikia is not accessible if you've made further modifications. Remove the custom ad blocker rule(s) and the page will load as expected.