O Site Oficial de Monster Highé o website oficial da franquia Monster High da Mattel.Há jogos,vídeos,informações,personagens,e você pode se cadastrar e decorar seu armário,fazer o quiz de com que personagem você mais se parece,fazer sua carteira de estudante,etc.
O site está disponivél em vários idiomas.Ele contém jogos,vídeos,informações,personagens e você pode se cadastrar para ter acesso á várias coisas.
Design do site
Edit
Após a abertura do site,você é redirieconado há uma página principal,com o fundo preto.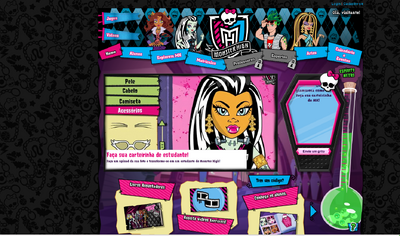 A pagina principal contém o logotipo da Monster High,com personagens ao lado.Se você clicar em um dos personagens,você será redirecionado ao perfil do personagem.
Também contém faixas com coisas que se pode se fazer no site.Do lado esquerdo,tem o medidor de espírito escolar.Se você se cadastrar,cada vez que você ver vídeos,jogar jogos e visitar as páginas do site,seu medidor aumenta.Quando o medidor fica cheio,você ganha um prêmio surpresa especial.
Há também ao lado do medidor escolar um box onde os personagens de Monster High "falam" o que estão sentindo,fazendo ou sobre o que se pode fazer no site.Você pode enviar um grito,ou seja,uma mensagem ao personagem respondendo o que ele disse no box.Há também notícias sobre novos jogos e outras coisas que são lançadas no site.
Ad blocker interference detected!
Wikia is a free-to-use site that makes money from advertising. We have a modified experience for viewers using ad blockers

Wikia is not accessible if you've made further modifications. Remove the custom ad blocker rule(s) and the page will load as expected.