Skelita Calaveras Filha de esqueletos Edit
Personagem inserida em 2012 e é estudante de Monster High.
Skelita foi inspirada em Día de Los Muertos, que é uma celebração Mexicana de origem indígena que honra os falecidos no dia 2 de novembro.
Sobre ela...
Edit
AparênciaEdit
Skelita Calaveras não tem pele, apenas ossos, cabelo preto e ruivo e, olhos castanhos claros.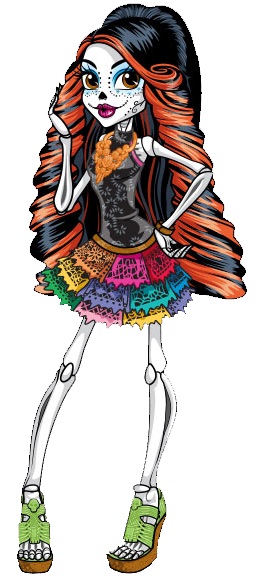 Personalidade Edit
?
15
?
Bicho de Estimação Edit
Um escorpião.
Tenho orgulho das minha origens, mas também gosto da minha individualidade. Então, eu misturo roupas tradicionais com a moda atual para compor um look original com a minha cara. Pode parecer que estou sempre pronta para sair pra festa, mas é assim que curto a minha vida; uma grande desculpa para celebrar e curtir.
Cor preferida Edit
Cor de Tagetes Patula.
Comida preferida Edit
Caveirinhas de açúcar.
Atividade preferida Edit
Gosto de fazer qualquer coisa relacionada ao Día de Los Muertos. Como pintar o rosto, costurar, criar dioramas, dançar, contar histórias e principalmente passar tempo com mi familia.
Matéria preferida / Matéria que menos gosta Edit
Artes. É uma aula onde a aula e a tarefa de casa são coisas que amo fazer. É como se eu não estivesse tendo aula. / Música. Não me leve a mal, eu adoro escutar música e dançar, mas a parte do canto não é nada boa. Não posso carregar um som no caixão.
O que mais lhe irrita Edit
Lápides que são ignoradas ou mal cuidadas. É como se você esquecesse quem foi e de onde veio.
Curiosidade Edit
Meu esqueleto treme quando penso que algo monstruoso está para acontecer. Infelizmente, eu não tenho como saber a data exata dos acontecimentos.
Dublagem Edit
A dublagem original de Skelita é feita por Laura Bailey.
A dublagem brasileira é feita por Jussara Marques.
Webisódios
Edit
Os Webisódios que Skelita Calaveras aparece, são:
Ad blocker interference detected!
Wikia is a free-to-use site that makes money from advertising. We have a modified experience for viewers using ad blockers

Wikia is not accessible if you've made further modifications. Remove the custom ad blocker rule(s) and the page will load as expected.