Show de Talentos
é o terceiro webisódio de Monster High.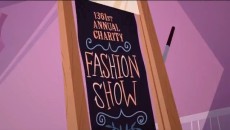 Foi lançado originalmente no dia 5 de Maio de 2010 no site oficial de Monster High.Foi exibido na televisão pelo canal pago
Cartoon Network
no dia 31 de outubro de 2010,em celebração ao Halloween.O titúlo original desse episódio é
Talon Show.
Descrição
Edit
Quando Clawdeen se apresenta no show de talento da escola, ela mostra o parentesco com o Lobisomem. Será que o público vai gostar?
Sinopse Completa
Edit
Atenção:Spoilers!
O episódio começa com Cleo de Nile se apresentando no show de talentos da Monster High.Ela faz bastante sucesso entre os jurados e o público.Sua apresentação termina,e Deuce Gorgon a elogia,dizendo que a apresentação foi muito boa.Clawdeen Wolf,no entanto,diz que a apresentação de Cleo nem foi tão boa assim.
Ghoulia Yelps aparece de repente,dizendo(na língua de zumbi) que Clawdeen é a próxima.Cleo deseja boa sorte(ironicamente) para Clawdeen,e diz para ela não se surpreender se não for aplaudida.Clawdeen ignora Cleo,com Ghoulia apressando-a.
Clawdeen entra no palco,e de repente deu um branco em sua cabeça,e ela não sabe o que fazer.Então,um imenso holofote liga em direção a Clawdeen.Draculaura,na platéia,comenta que aquele holofote parece a lua.Como Clawdeen é filha do lobisomem,começa a uivar e rosnar desesperadamente.
Cleo de Nile começa a debochar de Clawdeen,mas uma música começa a tocar,e Clawdeen de repente começa a dançar,dando um ritmo especial a música.A platéia começa a vibrar.Cleo,percebendo o sucesso de Clawdeen,desliga os holofotes,fazendo ela parar.
Porém,o público continua a aplaudir,e todos pedem bis.Clawdeen sai do palco e pergunta para Cleo se alguém pediu bis na apresentação dela,e vai embora,rindo.Cleo,furiosa,olha para o espelho,que quebra.
Ligações Externas
Edit
Ad blocker interference detected!
Wikia is a free-to-use site that makes money from advertising. We have a modified experience for viewers using ad blockers

Wikia is not accessible if you've made further modifications. Remove the custom ad blocker rule(s) and the page will load as expected.