Twyla filha do Bicho Papão Edit
é uma personagem inserida em 2013.
Sobre ela..
Edit
Aparencia Edit
Twyla tem olhos roxos,pele cinsa e cabelos verdes com mechas roxas.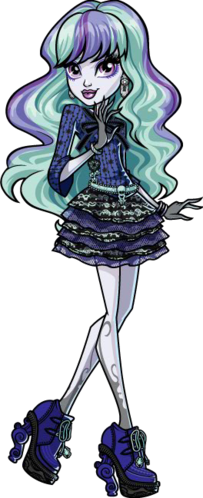 Personalidade Edit
???
15
Howleen Wolf
Bicho de Estimação Edit
Um coelho de poeira chamado Dustin. Eu o encontrei num vendaval um dia, o resgatei e o adotei.
Meus amigos dizem que sou uma figura sombria. De qualquer forma, eu adoro azul escuro e roxos, principalmente quando se misturam como fumaça na água.
Cor preferida Edit
Azoxo, que é azul misturado com roxo.
Comida preferida Edit
Sonhos, é óbvio!
Atividade preferida Edit
Adoro capturar pesadelos de normies, deixando passar somente os sonhos bons. Você tem que concordar que isso é uma coisa boa, né?
Matéria preferida / Matéria que menos gosta Edit
Adoro psicologia porque aplico as coisas que aprendo na classe durante a noite. / Pronúncia. Ficar na frente de um monte de monstros é muito difícil pra mim, mas se eu não falar, como vão entender o que digo?
O que mais lhe irrita Edit
Quando outros monstros não entendem que eu quero ajudar normies e, os normies não entendem que não quero assustá-los. É difícil construir sonhos em mentes duvidosas. Ah, e também odeio aspiradores.
Curiosidade Edit
Sou extremamente tímida e passo a maior parte do tempo dormindo/me escondendo embaixo da cama, então fica complicado fazer novas amizades. Bem, isso é um dia típico de uma filha de bicho papão.
Dublagem Edit
A dublagem original de Twyla é feita por Jonquil Goode.
Ad blocker interference detected!
Wikia is a free-to-use site that makes money from advertising. We have a modified experience for viewers using ad blockers

Wikia is not accessible if you've made further modifications. Remove the custom ad blocker rule(s) and the page will load as expected.