Vandala Doubloons filha de um fantasma pirata.
Edit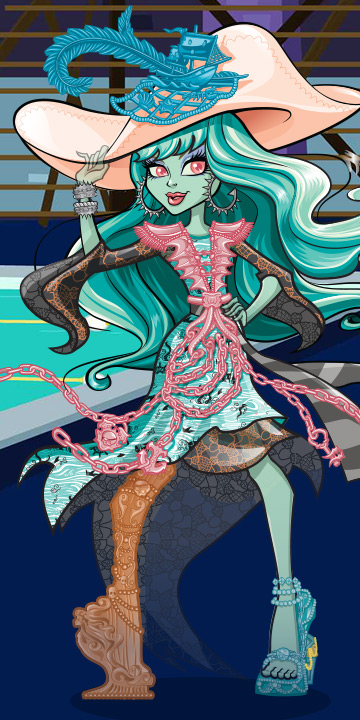 Esta personagem foi inserida em 2014.
Sobre ela...
Edit
Aparencia Edit
Vandala tem cabelos verdes olhos cor de rosa e pele tambem verde.
personalidadeEdit
????
Kiyomi Haunterly
Bicho de estimaçãoEdit
Uma lulinha de tapa-olho! O nome dele é Aye!
Chique Náutico Fantasmagórico! Silhuetas fluidas me lembram das ondas batendo na proa em alto mar e o vento balançando as velas do navio.
Cor preferida Edit
Azul mar
Comida preferida Edit
Bacalhau
Atividade preferida Edit
Explorar áreas não mapeadas dos 7 mares fantasmagóricos. Nunca se sabe o que descobriremos ou quais tesouros encontraremos.
Matéria preferida / Matéria que menos gosta Edit
????
O que mais lhe irrita Edit
Quando um fantasma não se decide! Um capitão deve ser decidido, então me dê uma ordem ou saia do caminho e me deixe conduzir o barco.
????
Ad blocker interference detected!
Wikia is a free-to-use site that makes money from advertising. We have a modified experience for viewers using ad blockers

Wikia is not accessible if you've made further modifications. Remove the custom ad blocker rule(s) and the page will load as expected.