Venus McFlytrapEdit
É uma personagem inserida em 2012. Ela é filha da planta carnívora e, estudante de Monster High.
Ela fez sua primeira aparição em Por Que monstros se apaixonam?(Why do Ghouls fall in love?) como personagem secundário.
Sobre ela...
Edit
AparênciaEdit
Venus McFlytrap tem a pele verde claro, cabelo verde e rosa, e olhos azuis esverdeados.
PersonalidadeEdit
A personalidade de Venus é como seu estilo, como ela diz, 'em negrito e em voz alta na sua cara'. Um dos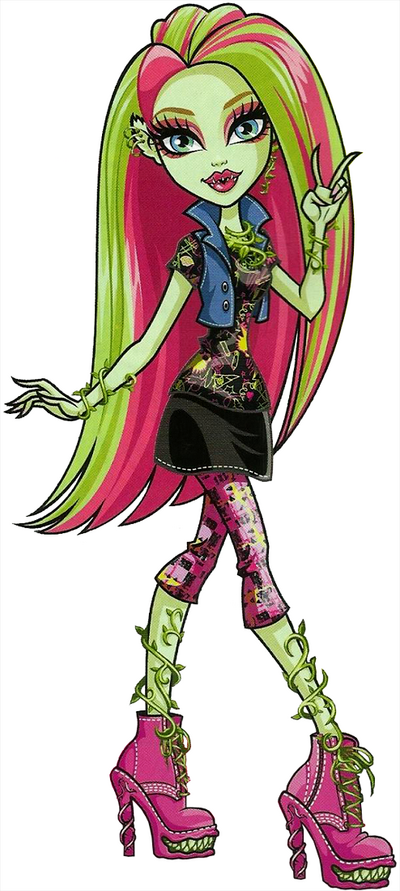 grandes temas na sua personalidade é o interesse pela preservação, mesmo indo tão longe como controlar monstros para suportar sua causa. Ela faz tudo o que ela pensa que é certo, mesmo que isso signifique forçar. Mesmo que ela pareça difícil e intimidadora, ela é muito compassional, principalmente com as plantas.
15
Lagoona Blue, Draculaura e Ghoulia Yelps.
Bicho de Estimação Edit
Uma planta carnívora macho chamado Chewliam. Ele tem uma personalidade forte.
Inteligente, bela e bem a vista! As flores mais inteligentes ganham a atenção e eu não sou uma violeta encolhida quando quero que todos olhem para mim.
Cor preferida Edit
Verde.
Comida preferida Edit
Sol e água fresca.
Atividade preferida Edit
Gosto de caminhar, acampar e convencer outros monstros sobre a importância de cuidar do mundo em que vivemos.
Matéria preferida / Matéria que menos gosta Edit
Mordidologia. / Marcenaria.
O que mais lhe irrita Edit
Os monstros que poluem.
Bem, sou passional quando se trata de proteger o mundo em que vivemos e não quero destruí-lo - isso não seria um defeito - mas às vezes, eu acidentalmente de propósito uso meus pólens para persuadir monstros a serem voluntários da minha causa.
Dublagem Edit
Na versão americana Venus é dublada por Julie Maddalena Kliewer.
A dublagem brasileira é feita por Fernanda Bullara.
Curiosidades Edit
Sua habilidade especial é chamada "Pólen da Persuasão". Se ela jogar um pouco desse pólen em uma pessoa, ela consegue manipular seus pensamentos e ações, mas ela só consegue fazer isso em uma pessoa de cada vez.conseguer fazer plantas creserem  
Ad blocker interference detected!
Wikia is a free-to-use site that makes money from advertising. We have a modified experience for viewers using ad blockers

Wikia is not accessible if you've made further modifications. Remove the custom ad blocker rule(s) and the page will load as expected.